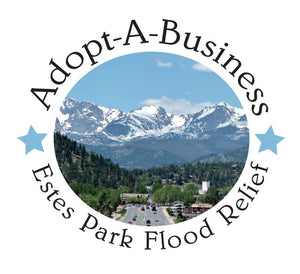 Adopt-A-Business Estes Park
Your friends at Brownfield's would like to invite you to help Estes Park. We are partnering with Summit Church to lead a campaign adopting businesses affected by the devastating flood on September 12, 2013. As you know, the flood caused an enormous amount of damage and a huge financial loss to the town of Estes Park. After the flood, many people came to the aid of individuals and assisted with massive town clean-up efforts. Yet, the businesses in town still struggle. A small group of people gathered together in November to brainstorm ideas on how we could help businesses recover. We wanted to think outside of the box and do something that would have both an immediate effect and a long-term impact. We wanted to solve a problem, offer hope, and make a difference. Thus, the Adopt-A-Business project was conceived.
Our project entails raising money to build websites for businesses who can't afford it or don't have the skills to accomplish it. The internet allows people all over the world the opportunity to support Estes Park from their very own homes. It is our hope that the creation of online stores will enable people near and far the opportunity to bless Estes Park with business. Also, in our technological age, people use the internet to plan their vacations. These new e-commerce websites will allow businesses to attract new customers when they are visiting Estes Park as well as shop online when they return home.
All of the money donated will go directly to the development of websites for businesses throughout the community. The cost of creating each individual website is $500. We are slightly over half-way in our funding goal of $10,000. Our initial goal was to raise enough money to build 20 websites for 20 different businesses. To date, we have completed five new websites and have seen amazing results. Sites are being worked on every day. Three people have received new employment opportunities through this program and are thrilled to be using their technology skills for our community. Each business receives the training necessary to run their website once it is constructed. We have our first 20 businesses signed-up and a waiting list for others. If we raise enough money, we will continue building sites and exceed our 20 business goal. We would love to be able to build a website for every business who asks for help.
If you have a heart for Estes Park, we invite you to be a part of this great project. Not only are the immediate benefits clear, but the long-term impact is obvious. Your gift today will have residual benefits for years to come.  Please consider giving today:
http://www.gofundme.com/adoptabusinessestespark
Thank you so much!
---