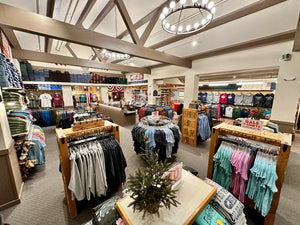 Heartfelt Thanks
What is the first descriptive word you think of when you hear the term construction? Messy? Expensive? Inconvenient? Complicated? The first word that comes to my mind when I think of our recent construction project is the word community. Surprising, right? Community has been a word on my mind recently. It seems to be a nostalgic, distant memory of the past rather than a common, beloved experience of today. John Mark Comer says, "Community is based upon mutual love.
Community is about who and what we are for. Community is about generosity, and honor, and celebration of the other and how different we are." For 19 of the past 20 months, we have lived in the construction world. To say I enjoyed it would be a radical understatement. I have loved the lessons that came with it, the relationships forged through it, the challenges we overcame, and the joy of welcoming people into our newly remodeled space. It has truly been the highlight of my 23-year career in retail.
I can't adequately express my gratitude to the hundreds of people who worked together as a true community to accomplish this task. The people, full of diversity, found unity in a singular vision. We have different worldviews, levels of education, ethnicity, language (both native tongue and the use of expletives), socioeconomic backgrounds, as well as political and religious beliefs, yet all of these differences were completely irrelevant as we rallied together to achieve a shared goal. Time after time, these skilled men and women would patiently show me their trade and teach me a small part of their craft. Many of them stayed late and came early to meet deadlines. A couple guys put their special touches on the place with extraordinarily thoughtful gifts fabricated from original materials of the early 1900's. They all endured copious amounts of picture taking and endless reminders of what an important part they played in this process. It was a terrific team effort.
I want to publicly honor and celebrate this beautiful community of people. You have been outstanding teachers and excellent teammates. The poet Pauli Murrey once stated, "True community is based upon equality, mutuality, and reciprocity [that] affirms the richness of individual diversity as well as the common human ties that bind us together." Thank you for reminding me of the richness of community.
Thomas Beck Architects
Ray Duggan Builders
Brandon J Borries Carpentry
Belleau Masonry
A & E Metal Fabrication and Welding
LT Engineering
Estes Park Lumber
Everest Mechanical
Fairbanks Excavation
Cornerstone Concrete
Artistic Cabinetry
Platte Valley Fire Protection
Trident Fire Alarms
Bailey's Traffic Control
Divide Electrical
Park Flooring
Range View Security
Apex Roofing
Rocky Mountain Insulators
Village Maintenance
Amigos Painting
Park Supply
Hillcrest Glass
Alpenglow Blinds
Estes Park Handyman
Middlecross Construction
Highland Cabinetry
Weaver Stone
Splashlight
KC Store Fixtures
CDOT
Safebuilt
Town of Estes Park
Bank of Colorado
Brownfield's incredible staff
and above all, the Giver of every good and perfect gift.
---